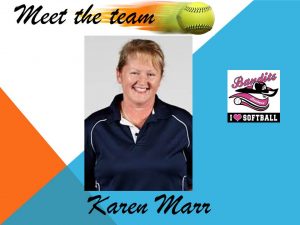 Brabant Bandits softball Winterschool
Niet de eerste de beste, maar,  om maar eens in wielertermen te spreken , een echte " klasbak" :  onze pitching coach Karen Marr
Karen heeft eigenlijk in softball wereld geen enkele  introductie meer nodig. Deze worldclass trainster heeft als een echte softballnomade werkelijk in alle hoeken van de aardbol haar unieke skills gebruikt om softball en met name het pitchen van de speelsters naar een hoger niveau te krijgen.  Ze was betrokken met nationale teams bij vele WK's , EK's en heeft geocached of was betrokken bij softball clinics in o.a  USA, Australie, China, Taiwan , Canada, in vele Europese landen, etc, etc.
Beter gaat het niet worden en wij zijn dan ook maar wat trots dat Karen ook dit jaar wederom ook onze Brabantse  speelsters de fijne kneepjes van het pitchen gaat bijbrengen.
Karen legt hieronder zelf even uit wat je kan verwachten bij de pitching training komende winter :
Coming this winter beginning November 12th, Pitching in Moergestel
This winter, pitchers will receive intensive instruction in the fundamentals and skills needed to master their respective positions. Pitchers will be grouped by skill levels and taken through the same instruction and drills utilized by the Dutch National Softball Pitchers.
Pitching this winter will again be led by Karen Marr- current Pitching Coach with the Dutch National Softball Team.   All pitchers will be provided with video analysis feedback on a regular basis using Hudltechnique. The opportunity for all athletes to learn strong mechanics for their pitching as well as movement pitches, improve their pitching speed and how to use their lower body in the most efficient way.
We will be offering pitching this winter with two (2) options available.
Group 1 – Beginning Pitching OR very little experience – 50 mins
Group 2 – Experience in Pitching & this is your 2nd or 3rd camp – 50 mins
Group 3 – Advanced Pitching 75mins
Group 4 – Advanced Pitching 75 mins